Mr. Mangold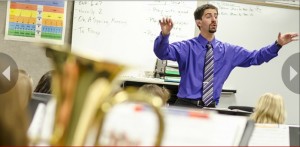 Mr. Dan Mangold is currently in his first year as Head Marching Band Director for the Pride of the Dutchmen Marching Band. In addition, he serves as percussion caption head for the marching band, overseeing battery and front percussion. Mr. Mangold is Co-Director of Bands at MOC-Floyd Valley High School in Orange City, IA, directing one of the concert bands, one of the jazz bands and teaching lessons. Prior to his position at the high school Mr. Mangold served as the Director of Bands at MOC-Floyd Valley Middle School and Assistant Marching Band Director of the Pride of the Dutchmen Marching Band for six years.
Prior to his coming to MOC-Floyd Valley, Mr. Mangold was Director of Bands at Sioux Central Community Schools in Sioux Rapids and 5th-6th Band Director at Albert City-Truesdale Community Schools.
Mr. Mangold graduated from Sioux Central High School, Sioux Rapids, and went on to receive his Bachelor of Arts Degree in Music Education from Northwestern College in Orange City. He holds a Master of Music degree in Music Education from the University of Northern Iowa.
Outside of teaching, Mr. Mangold plays trumpet with the Northwest Iowa Symphony Orchestra and Le Mars Municipal Band. He is the director of the Orange City Area Community Band during the summers. He was pit orchestra conductor for the 2015 Tulip Festival Night Show production of Mary Poppins and has played trumpet in the pit orchestra for several local productions. He and his wife Rebecca reside in Orange City.
Education:
M.M., University of Northern Iowa, Cedar Falls, IA
B.A., Northwestern College, Orange City, IA